A year ago today I laid up in bed and started mapping out my intentions for 2012. I needed some focus and clarity of my energy, so I plotted a course of action for my year. I listed in detail 6 tasks that I felt were the top of my priority list to accomplish in order to spur forward progression in my personal and professional lives. Looking back and grading my outcome, I may have fell short of my literal goals, but overall I fell up, not down.
6. Acquire the financing to finish my long awaited second album.
A year ago I had 6 completed songs and 8 written and ready for production. Today I have 7 completed songs and I've made peace with the rest. I decided this month to go forward with my 2nd album as is instead of fighting to produce the remaining songs. Sometimes you have to lose a battle to win the war. I tried to secure funding for a WHOLE album. I applied for the Huggies Mom Inspired grant, but unfortunately it wasn't my year. And I was unable to find any brand sponsors interested in teaming up with me and my music to connect better with children and their families. Nevertheless, I know in my heart that I have something important to offer to kids with my songs, so I am investing in myself. My good friend Cynthia "Napwarden" Wheeler has designed a CD cover that makes me SMILE! The music has been masterfully prepared by Jon Seiler at Jira Productions and is now in the hands of the capable techs at Breakthrough Audio. With my next, less than stretched, paycheck the CD will be reproduced and officially ready for the public. AWESOME 8! isn't my last best idea, therefore it's okay for me to let it take a different form to be released to the World. I've got plenty more left in me. The goal isn't to share with limits, it's to share it all.
My proverbial and literal house has been in an uproar for the last 3 and a half years. A year ago I thought the only smart thing I could do was ditch and run, but I found deeper strength reserves than I ever believed I possessed. I have been a warrior this year. And even though the division within my house is a foregone and necessary conclusion, I have fought to carve out a new existence within familiar walls despite the continued occupation of stressors. I don't have to move to find a new me, the change must come from within. However, it can be supported with some external tweaks. Which is why this year my kids and I all made an investment in altering our surroundings. Fresh paint, different beds, new arrangements, it's all about perspective. Sometimes you have to change your vantage point to see clearly. The struggles are not behind me, but the house isn't the issue, it's the people under its' roof that make the difference. If selling the house ultimately is the way to go then it's what will come to pass. I won't be ditching and running though, I'll be walking, tall and proud.
4. Book at least 3 speaking engagements.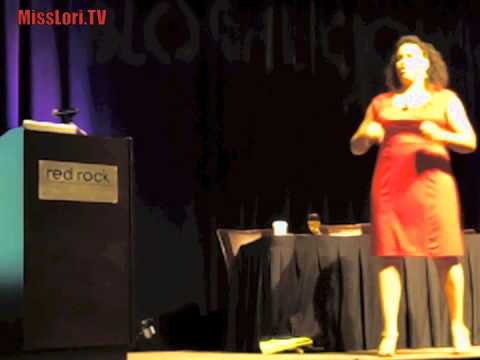 I met my goal for speaking in 2012. I led a Media Training Workshop for the inaugural Pitch conference. I shared the dais for the lunchtime keynote at Blogalicious and I anchored the second She Con with my closing keynote The Me in New Media. I am unabashedly proud of the work that I did as a speaker this year and hungry beyond all measure to do more in 2013. I have something important to say. I'm not arrogant I'm confident that the trials and tribulations of my life, and the course of action that I have taken to navigate them are of value to others. I feel a duty to share what I know to help people do more and be better. It's not just wat I do, it's who I am. So if you know of a conference or meeting or company in need of passionate inspiration and direction, book me. I will bring it in 2013!
I wrote more treatments for interstitials, pitched more brands for partnerships, but came up short. But that didn't mean I wasn't on camera. I had the great fortune to guest host on Chicagonista Live  with my dear friend and supporter MJ Tam. It wet my whistle for an expanded presence on screen, not just catering to kids, but to their parents as well. Which makes sense since I have always considered myself to be a family entertainer, not just one for children. Maybe I feel short of this goal because it wasn't quite right. Maybe the goal itself fell short and I need to expand my dream to reach what's truly meant to be. Maybe.
I have been writing children's stories for a few years now as a part of my series Little Miss Lori; adventures in five year old living. I tightened them up a bit with the help of a friend. We submitted them to an agent, but nothing happened. I mean literally nothing. I never heard a word. I didn't spend any real time on the ebooks I talked about last year as a pathway to publishing the LML series. I still think it is a good plan, but perhaps not realistic to my actual life. Writing takes a lot of time, and that's something I have not yet learned how to make a surplus of. I did start writing more in the parenting genre recently. I was added to the roster of voices talent on the Disney vehicle Babble.com. Perhaps this is the true path that I need to travel to bring Little Miss Lori to fruition. Perhaps. Only effort will tell. And I am nothing if not a woman of effort and action.
1. Become the healthy me that I deserve to be.
When I laid down these goals, this plan last year, I was right that I needed to make a commitment to becoming a healthier me. But where I was off was believing that I had completed my internal work and could focus solely on the external. No, I was far from done. I'm closer now though. I'm getting there, peeling away at the onion that is my psyche. This is work that is years in the doing, not months. But I do think that I am in a better place so I can multi-task. Plus I really believe in signs, and I got a big one yesterday. I got a call from the wonderful people at Bowflex. I had the good fortune to get to know them at Blogher this year. I continued to write about their Treadclimber for these past few months. About my desire to improve my outer shell. About the space that I made in my room for something to help me in achieving that goal. About my passion to empower others. My stalking and talking paid off. Bowflex is sending me a treadclimber of my very own so I won't just be talking the talk, I'll be walking the walk…or treadclimbing to be more specific. Yes, I believe in signs, and this is a sign that I am indeed on the right path and people are noticing. Better yet they are willing to support me, and that feels really good.
I said in my post that I didn't have resolutions, I had resolve, and I believe that still to be true. Resolutions are temporary, disposable even, but resolve, resolve is the meat on the bones of effort. Resolve means you stay in it till the job gets done, no matter how many years it may take. Like I always say, "If it's got to be DID, it's got to be DONE." I live my life like I have no choice. What do you resolve to do in 2013 and beyond?
SMILE On!
Miss Lori can be found at
 MissLori.TV, Wearetherealdeal.com, YoungChicagonista, TheChicagoMoms.com and now on BABBLE.com with her new blog SMILING On With Miss Lori.
You can also see her Activating to Be Great at
 Miss Lori's CAMPUS on Youtube, Facebook, Twitter, Pinterest, Instagram, TOUT and LinkedIn.